Running Wild: Awesome Animals in Motion
Written by Galadriel Watson

Illustrated by Samantha Dixon
Published by Annick Press
2020 EUREKA! Nonfiction Children's Book Award Honoree, by the California Reading Association
*Starred Review: Kirkus
*Starred Review: CM Reviews
Creatures sprint, slither, and soar in this STEM-driven dive into the extraordinary, everyday ways animals move!
A squid jets through the ocean like a rocket. A cheetah races after a zig-zagging gazelle. A fishing spider walks on water with its eight hairy legs. All animals must move. Whether on the hunt for something to eat, on the run from being eaten, or in search of a mate or a safe place to live, their lives depend on marvelous motion!
In this fascinating introduction to biomechanics, seasoned non-fiction writer Galadriel Watson draws on biology, physics, and other sciences to show readers the incredible ways a variety of creatures move to meet their everyday needs—and overcome the physical forces working against them. An accessible, lively style and dynamic design will keep readers engaged, while Samantha Dixon's energetic illustrations and mechanical diagrams reinforce STEM concepts on each spread.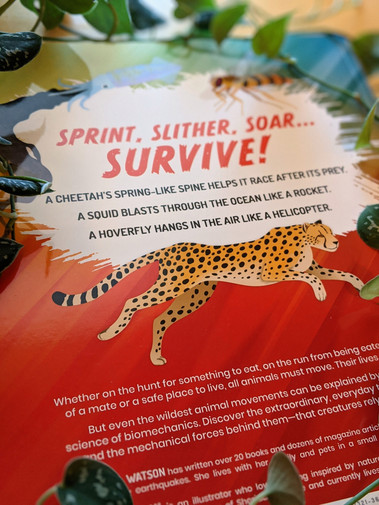 "Information is expertly presented...a conclusion sparks curiosity and inquiry...Jump, hop, or pounce on this winning, informative title." - Kirkus Reviews
"Watson and Dixon have created a book that is sure to inspire all three—wondering, watching, and learning. Well done. Highly Recommended." - CM Reviews
"Engaging text and bright illustrations...An excellent choice for a book talk." - School Library Journal
"The illustrations were very well done. They worked to further engage readers and enhance their understanding of the information discussed and the vocabulary used...will appeal to engineering, science, and animal lovers alike." - Sharon the Librarian
"Carefully researched and with a design that is appealing and entertaining..." - Sal's Fiction Addiction